İkiz Pansiyon Villa Bungalow & Safe Tourism Certificate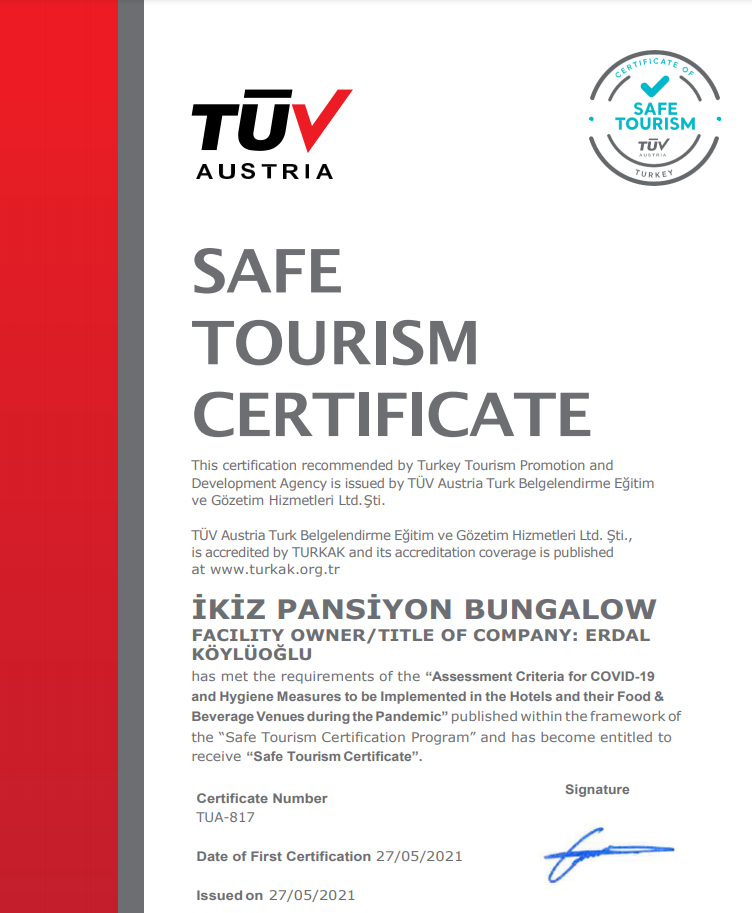 Dear Guest,
On March 11, 2020 The World Health Organization declared a pandemic due to Corona (Covid-19). As of this date, precautions taken worldwide have been increased.
In our hotel, recommendations and circulars which belongs to Republic of Turkey Ministry of Health, Culture and Tourism Ministry and The World Health Organization (WHO) are being applied.
As Ikiz Pension Bungalows Villa's and Restaurant; since the day we were established, we have been fulfilling all the requirements regarding the health of our hotel guests in international standards. We are pleased to express that we have added updates to our regular hygiene practices, which are currently being implemented, on pandemics that affect the whole world. You can reach our hygiene certificates and the hygiene practices that we apply due to Covid-19 below the page.
During your stay in our hotel, we ask you to act in accordance with the information specified in this guide, to protect both your own health and the health of our other guests and our employees who stay with you.
INFORMATION GUIDE

YOUR ROOM
• Your room gets cleaned with disinfectable products, after these processes, your room is delivered to you as '' first-time user ''.
• The products such as soap, shampoo in your room are single-use and not used by anyone except you.
• Cleaning of your room is done by our staff using a mask and disposable gloves.
• If you do not want to be disturbed for daily room cleaning or your mini bar, please inform the reception that you do not want this service.


GENERAL USAGE AREAS
• All areas are cleaned depending on the quality of the surface, using appropriate disinfection materials according to the standards.
• All general usage areas, including restaurants, reception area, bars and sales units, are arranged in accordance with the social distance plan; Necessary precautions have been taken regarding social distance and necessary markings have been made. No more guests will be admitted to these areas than the capacity in accordance with the plan.
• There are enough hand sanitizers or antiseptics in all general use areas.
• Reservation system is implemented in order to ensure safe use in our yoga hall, and the number and duration of the people to use at the same time are arranged in accordance with the social distance plan. After each use in this area, cleaning of the area and equipment with hygiene materials in accordance with the standards is done by us.
• The distance between tables is arranged as 1.5 meters in our units where food and beverage services are provided.


OUR STAFF
• All our employees have received special training in epidemics and hygiene.
• Our personnel use protective materials such as mask gloves or face visors depending on the place and service when serving you.
• In all personel areas, hygiene standards and practices are carried out in the same way and meticulously as in the general usage areas.
• In our facility, hand and body hygiene tools and equipment are available in food production and kitchen areas.
• Cleaning and hygiene of kitchen related areas, all kinds of equipment used in the kitchen, counter and storage areas are provided regularly.


WHAT WE EXPECT FROM YOU
• During check-in, fill in the information requested on the registration card completely.
• When moving inside the facility, pay attention to maintain social distance.
• Do not disturb the 1.5 meter distance left between the tables.
• If you are experiencing symptoms of Covid-19 in yourself or one of our other guests you know, please inform the reception immediately, the reception will contact both you and contact your healthcare provider.
• You can obtain protective materials such as disinfectants, masks and gloves at reception, housekeeping and room service is free of charge at any time of the day, so that you can use them as required under Covid-19 measures.
• Covid-19 virus, besides speaking and touching, it can also pass with nose, mouth, eyes, etc contacts, hang in the air for a certain period of time and live on the contacted surface. For this reason, you should wash your hands frequently with soap and water. If you are far from the sinks, hand sanitizer devices have been placed at our locations where our service units are located.
• We remind you that different activities such as running, sports, cycling and swimming require different social distance and different measures even if precautions such as disinfectant and mask use are taken.
• With the services in and out of the hotel, you can attend outside the hotel, spa, hairdresser, jewelery, market, transportation, food, sightseeing, tour, photo shoot, boat sport, jogging, trekking, etc. You should definitely take all precautions in such events and inform the hotel about participating in these events beforehand. After these events, if you see any signs or symptoms related to Covid-19 and other epidemics, you should report this to the hotel management immediately. In such a case, the reception will contact you with the healthcare institutions and provide your contact.
• If there are any Covid-19 symptoms or positive test results inside or outside the hotel, the hotel phone you need to contact immediately is +90 (532) 494 66 11

Thank you for the precautions you read carefully and that you will follow them in order to protect the health of our other guests and employees, especially your own health.
"Due to the decisions taken by the World Health Organization, the Ministry of Culture and Tourism of the Republic of Turkey, the Ministry of Culture and Tourism, the Ministry of Health and the local authorities during the normalization process of the Covid -19, the facility reserves the right to change in service understanding."